BIO
HOT HOUSE BIG BAND BIOGRAPHY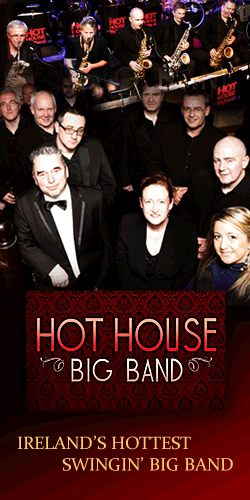 The Hot House Big Band, Ireland's most exciting big band, is comprised of seventeen full time professional musicians and, since their launch in early 2010 they have been amazing their audiences with their skill and competence. The leader of the band, Mark Wilde, brings an ever changing repertoire to the bandstand courtesy of his large library of arrangements so there is always something new for the many afficianados that throng this big band's many shows.
This unique flexibility, coupled with the regular introduction of new arrangements from the best of Irish and International arrangers, enables the band to tailor their set to any musical setting.
Mark started the band in answer to Dublin's need for a big band playing dynamic and contemporary music and the cosmopolitan nature of the band's audience shows that the band satisfies the appetite of a modern audience while still retaining the lovers of traditional big band.
The seventeen piece band are joined every week by at least two vocalists (sometimes three) guaranteeing a night filled to the brim with musical magic.
The breadth of the band's experience is ably demonstrated by the collaborations they have engaged in over the years and these include: the RTE Concert and Symhony Orchestras and Big band,The Three Tenors (Pavarotti etc), Riverdance, Celtic Women, Westlife, The Commitments, Jerry Fish and the Mudbug Club, Radio City Music Hall New York, The Wilson Pickett Band (New York) and even Hugh Hefners Playboy Mansion to name a few.
Individually the members of the band have also covered the globe as a result of performance and recording duties, and this wealth of experience is evident in their mastery of big band music where they come together as the 'Hot House Big Band'.